It looks like I've got the basic G226 dimensions fairly close so, I thought I'd do some things with the figures that might be interesting.
Since this is the pulling part of the forum, everything will deal with the 4.125 bore. If you deal with the 4.00" bore, the figures will be 14 CI less and about .2 less compression. I don't know if the 4.125 piston/sleeve kits use the std stock, 4.000" bore, 2.530 CH but, I will assume that for all my data. All data, is based on a deck height of 12.656 and a rod length of 7.500.
First up, for those that want custom pistons made, the compression height of the piston, for different compression ratio's.
4.125" Bore
2.590 = 8.01
2.630 = 8.52
2.670 = 9.06
2.700 = 9.51
2.730 = 10.02
So, each increase in CH, of ~.035, will give you a 1/2 point of compression.
Next up, is the stock CH of 2.530 and a welded, offset ground crankshaft to a stroke of 4.750.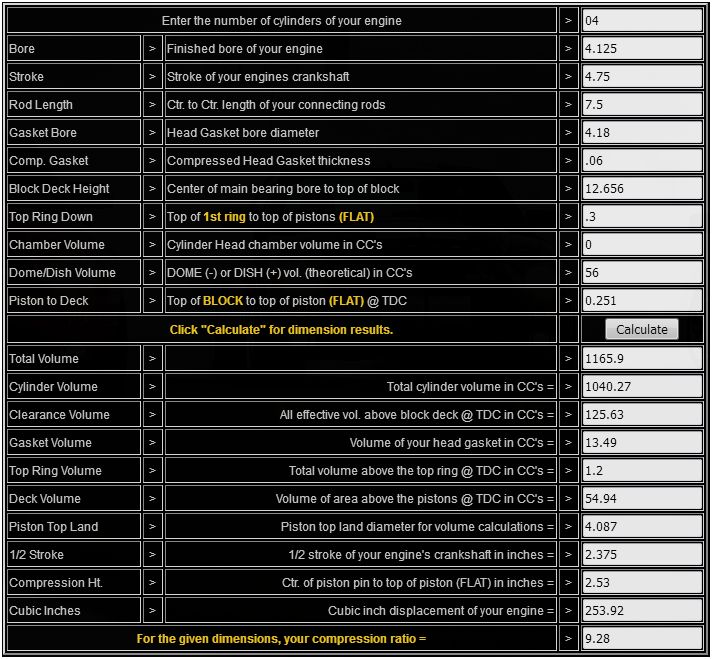 You can also increase the stroke to 4.800 and get 257 CI and a CR of 9.75 with the same CH of 2.530.
I hope this helps someone in their engine build.